Internships
Congressman Guthrie is pleased to offer internships to qualified college students and recent college graduates in our offices in Bowling Green, KY and in Washington, DC. The purpose of these paid internships is to educate students to the workings of the U.S. House of Representatives in a hands-on, fast-paced environment.

While intern responsibilities vary by office, primary duties include providing constituent services to callers, assisting staff with research, attending hearings and briefings, and performing administrative duties. Interns have the opportunity to participate firsthand in the functions of the federal government, gaining valuable experience not learned in the classroom. Intern projects vary in size and scope and can range from legislation to press to constituent services.

While priority is given to constituents of Kentucky's Second District, all candidates that submit completed applications will be considered. Successful candidates must demonstrate a pleasant office demeanor, the ability to multi-task in a fast-paced atmosphere, and the desire to learn about the legislative branch.

Internship programs are offered in the fall and spring semesters, as well as during the summer. Scheduling varies based on office and season. Deadlines are below.

Deadline for summer applications: March 15
Deadline for fall applications: July 15
Deadline for spring applications: November 1

If you are interested in serving as an intern Congressman Guthrie's office, please download the application. If you have questions or need additional information please contact our Intern Coordinator in the Washington, DC office at (202) 225-3501.

Click here to download Congressman Guthrie's internship application.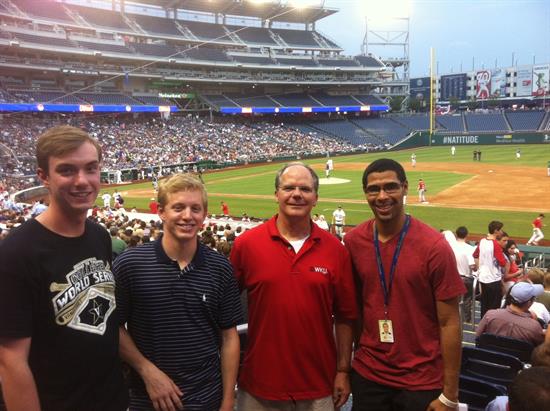 Congressman Brett Guthrie and interns Paul Shadowen (Glasgow native attending Vanderbilt University), Taylor Richard (Owensboro native attending Western Kentucky University) and Andrew Stewart (Radcliff native attending the University of Louisville) at the 2014 Congressional Baseball Game. (July 2014)