Health Care & Social Security
Congressman Guthrie serves on the House Energy and Commerce (E&C) Committee for the 115th Congress and was named the Vice Chairman of the Subcommittee on Health. E&C is the oldest standing legislative committee in the House with jurisdiction over our nation's health care policy. Click HERE for more information on the committee. Click HERE for a list of health care related bills authored by Congressman Guthrie.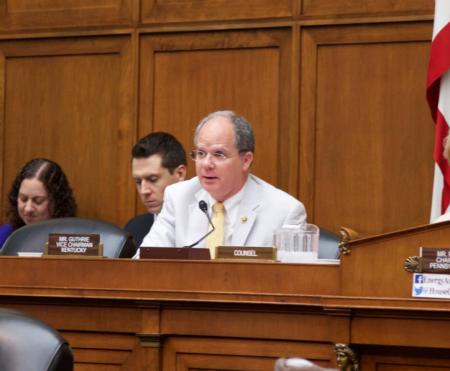 Congressman Guthrie serving as Vice Chair during a
Health Subcommittee hearing on June 24, 2015
In October 2015, one of Congressman Guthrie's signature health care bills was signed into law by President Obama. H.R. 1624, the Protecting Affordable Coverage for Employees Act, maintains the current definition of the small group market for health insurance as employers with 1-50 employees. That definition was set to expand under Obamacare to those employers with 1-100 employees on January 1, 2016. The small group insurance market has increased mandates and restrictions under Obamacare, so those workers who would have been forced into the small group market would have seen disruption in their coverage and increased costs.
Latest News
WASHINGTON, D.C.– Congressman Brett Guthrie's (KY-02) bill, the Sports Medicine Licensure Clarity Act, was s...

Read more

Click here to view Congressman Guthrie's speech on the SUPPORT for Patients and Communities Act. W...

Read more

Click here to view Congressman Guthrie's remarks on the House floor today in support of the Sports Medicine Licens...

Read more
Show all items